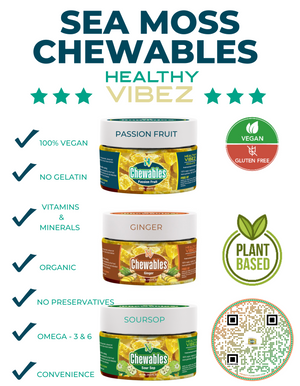 Healthy Vibez Sea Moss Chewables (Gummies)
---
Did You Know?
Chewable gummies help our bodies absorb vitamins faster! 

Superior Nutritional Boost
Give your body a daily supplementation of essential minerals and vitamins packed in a delicious treat that even your kids will love. Healthy Vibez chewables are made with flavors from organic Fruit/ herbs, sea moss, & coconut sugar,  providing endless health goodness for your body. Our gummies are great for supporting thyroid & joint health, strengthens immunity, improves skin & hair, & acts as an appetite suppressant.
Special Ingredients:
• Flavor from organic fruit & herbs
Preservative Free, Gluten Free, Non GMO, Soy free, Vegan, No Artificial Color
HEALTHY TREAT FOR THE WHOLE FAMILY
100% Goodness in Every Pack
Unlike capsules, our Chewables are easy to chew & swallow, and provide a more desirable taste that you will love. They are non-GMO, and free of gluten, nuts, synthetic colors, artificial flavors, artificial sweeteners, and preservatives. They are also free of animal products making them vegan friendly health supplements!